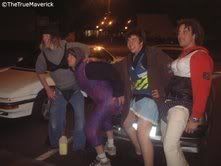 The Diary Of A Crossdresser Chapter 1 - Neighbours Afford Me A Warm Welcome On The Eve Of My Party
-
It was not long after I moved in to my new pad in the north part of Sheffield that I was welcomed by my new neighbours,I decided to repay their friendliness by holding a party at my flat by the end of the week.

I had hardly really got to know any of the locals in the first few days of me moving in,yet they seemed intent on having a good time and everybody doesn't need an excuse to attend a party I thought.

At first I was introduced to Kevin,Paul and Robert,who was known as Cindy to his punters and workmates when cross-dressing at "Napoleons" roulette club,this was his alter ego.

John reminded me of "Saddam Hussein",maybe it was his thick rug of a chest or his bushy eyebrows which complimented his large moustache,which seemed to invite scrutiny.

On my first day at the flat I unpacked my personal belongings and took possession of all the various items which were delivered by the removal man.

Then it was time to meet and greet all of my new neighbours.

Some of them offered me a few of their less cherished and unwanted items, such as an old radio hi-fi system which I didn't need but I was assured it was in good working order.

Then the old boy on the street Eric offered me a bar stool, whilst Paul gave me a TV,he had 6 other models in his flat but didn't possess a license or so he told me.

The party was arranged for Friday evening at my place,the guests were told to just bring a bottle and a friend.

I was a little apprehensive about how many people might show up and if some or all of them might bring illegal substances to my flat,then I might run the risk of a quick eviction or possible prosecution if I was to be found at fault.

Friday morning soon arrived and it was around mid morning when I decided to get out of bed and make myself a nice cup of tea.

It was a chilly overcast morning with a cold nip in the air,I stretched out,yawned and then pulled back the curtains in my poky bedroom.

I began to look beyond the view of the local grassed area with the cherry trees to see if there was anybody about.

The trees which I could see clearly from my room began to sway in the breeze and there were several blackbirds in evidence as they began to chirp away to themselves.

Then I spotted Eric the old timer who had tried to offer me his faulty bar stool,he was throwing a ball to an eager mongrel dog.

I wasn't sure of the breed exactly,safe to say it looked rather scruffy and undernourished.

It wasn't long after that I heard the postman arrive with his mail,I began to walk downstairs wearing my dressing gown and flip flops.

After collecting my mail on the door mat I quickly noticed that Robert was also collecting his mail from his flat opposite.

He waved at me because he had a rather large piece of toast in his mouth,Robert appeared different from the last time I saw him as,we eventually began to chat with each other.

------

Robert- Are you still up for the big bash tonight love?.

Me- Yes I guess so,are you bringing anyone nice with you?.

Robert- It depends on what you mean,as in the case of a friend maybe?,I think I might bring Shirley,she's pretty harmless but prefers the fairer sex if you know what I mean and she is a bit on the tubby side.

Me-I see well I look forward to meeting her later,what plans have you got for today?.

Robert- I haven't got anything planned for today honey as I was working at "Napoleons" until about 3 am this morning.

So I'm feeling a little zonked out but you're more than welcome to pop across for a coffee now or later on this morning.

Me- That sounds like a great idea,I'll see you in about 10 minutes then.

----

We both closed our doors simultaneously as I began to smirk at Robert's appearance.
He not only had red nail varnish painted toes but he was wearing mascara and blusher too.

Then there was his amusing fluffy pink slippers which allowed a space for his protruding toes to peep out of,very fetching I thought to myself.

He also wore a pink night dress which intrigued me,I was anticipating where our conversation might lead once I was tucked up in his flat.

I quickly ran upstairs and made my way to the dingy kitchen where I washed the dirty dishes from the night before.

After I had finished doing that I quickly brushed my hair and got dressed before shutting a couple of windows before making my way over to his flat.

Just then I caught sight of Kevin who was waving at me from his kitchen window,he then picked up a mug and placed it towards his mouth,perhaps suggesting to invite me over for a cuppa.

I immediate returned the gesture by pointing at Robert's flat with two fingers, as I continued my way he suddenly Sprung from his flat and we began to chat.

----

Kevin- You don't want to be going over to his place love,he's a queer sod,you might never get out alive.

He's a real man eater let me tell you,last night he was dolled up as Cindy again and was wearing all of his favourite cross-dressing gear,he really freaks me out man.

Me-Right so you actually saw him dressed up like a cross-dresser?.

Kevin-Yeah that's what I'm telling you,why don't you come over to my place love?,I've just made a brew.

Robert-What's he been saying about me?,I'll mind you to keep your bloody nose out of my business,stop tarnishing my reputation in front of my new friends,now piss off.

Kevin- Right then duck are you coming across or what?,I'll leave it up to you.

Me-Ok see you later at the party Kev,I'm off to Robert's.

Robert-Yes that's it Kev go and play with yourself over there,you waste of space.

Me-I say don't you two get on,have you got a bit of previous with him?.

Robert-It's a long story honey,come on inside,I bet it's warmer in mine,now what do you fancy tea,coffee,vodka,whisky,cider or maybe all 5 ha ha ha.

Me-Coffee will be fine with two sugars and a little milk please.

Robert-Oh shit !!!!!!! It looks like I'm out of milk,would you be a love and buy me some,I'll give you the money when I get paid on Friday.

Me-Yeah ok can I just use your loo,where is it?.

Robert-It's the first door on your right,mind you don't trip over some of my clothes and shoes in there.

This morning I literally got in and basically threw off my clobber before crashing out on the bed.

----

I finally reached the bathroom where I was shocked to discover all of Robert's feminine clothes.


There were skirts,bra's,tops,high healed shoes,strapped leather sandals,makeup bags,glitter scarfs,hair bands makeup,fake boobs etc.

The items were endless,safe to say he had more items of clothing than my kid sister,I quickly went to spend a penny and bolted the loo door,as I didn't want any unwelcome intrusion.

His choice of tights were interesting,I liked the flowery patterns and sequenced designs.

However I didn't stop around long enough to take in all of the detai from his wardrobe but made a speedy exit and rushing out of his front door as quickly as I could.

It was only a short walk to the local shops and I wouldn't be gone for more than 10 minutes at the most.

On my way over I noticed that Paul was buying some cigarettes at the local off license,I greeted him before I made my way back to Robert's flat.

The off license seen to sell every type of alcohol and probably did a brisk trade with the locals on a night.

I arrived back at Robert's flat to find that there was no answer after I had knocked on his door,it was a full 10 minutes before Kevin opened up his window and shouted out to me.

----

Kevin-He's had to go out

Me-Why where did he go?,I've only been gone 10 minutes

Kevin-The busies were round at his place whilst you were away and he's helping them with their enquiries or so I am lead to believe.

Me- You mean he's got himself in a spot of bother?.

Kevin-That's the way it looks from where I was standing,an officer handcuffed him before pushing him in to their awaiting police car.

Me-I see well that is a shock,I wonder what that's all about,I guess we will find out when or if he makes the party tonight.

Kevin- Yeah,why don't you come across to my flat,I'll fill you in with a few more juicy bits of scandal about our Robert,what do you say?.

Me-Sorry Kevin I'd really love to chat with you but I'm not one for idol gossip,I'm sure he will tell us all what it's all about when he's good and ready.

----

I returned back to my flat placing the purchased milk in to my refrigerator before making myself some cheese on toast,this was my late morning brunch.

I had no other plans for the day apart from buying the party food at my nearby supermarket,until such time I was free to ring round and find out who was coming.

When I sat down on the coach which was given to me by John,I noticed that were some lipstick marks and nail varnish stains on top of the rest arm of the settee.

My mind surely wasn't playing tricks on me,could John be a closet transvestite or cross-dresser too?,I pondered.

I thought nothing more of it until I discovered a pair of silk stockings which I found underneath one of the cushions,then I found make container with blue eyeshadow in it.

I began to laugh out hysterically and was bursting to speak to someone about this unusual discovery.

I called Kevin on my mobile phone and decided to invite him across to my flat,but there was no reply so I tried him on his landline

Unfortunately I got no joy with that either so I gave up in the end before planning my day ahead.

It was now just over 2 hours until the first of the guests would be arriving,I needed to crack on with shopping for the party food.

This party would be quite an eye opener for me with getting to know my immediate neighbourhood,it would probably irritate the hell out of my three neighbours who shared the same confines of the property.

So far 10 people had confirmed that they would be attending,this was only a handful of people I was expecting and would give me a rough estimate of how much food and drink that I would need to buy.

The party was about to get underway and there was sure to be some fun,frolics and laughter not to mention a lot of noise.

Maybe a few hidden secrets might be revealed,after all everyone had the odd skeleton in their closet and some more than others.





















© Copyright 2019 Inga Johansson. All rights reserved.