QUEEN BEES'
A T.V. Series-Season 1
Chapter 1-Pilot
Lolita Nash sat at the dinner table with her family of five. She sat with her elbow propped up on the table and the side of her head resting against the inside of her hand. Lolita depressingly played with her food, and listened to her family's constant judgmental remarks and stare downs they inflicted upon her. Her father was nagging her about her bad behavior at school and sharing with the rest of the family about how much money he invested in her education and how she had deliberately and repeatedly thrown away thousands of dollars as well as shamed him. Her older sister Candice, sat beside her, teasing her about her physical looks. Her Sister's fiancé of two years, Jordon Murphy sat quietly on the other side of her sister. Her Mother, Sue-Anne, sat on the opposite side, in front of Candice, nervously shoving food in her mouth and listening to her husband's complaints about her youngest daughter. Lolita's twin brother, Ryan, sat directly in front of Lolita, staring at her with sadness in his bright brown eyes; from time to time he would take his eyes off his sister and look at the faces all around him, wondering, "Why such cruelty?"
Lolita had gotten thrown out of her old high school, because of her refusal to follow the school's guidelines. Occasionally, she would skip her last two classes of the day and hang out outside on the rugby field with her group of wealthy misfit friend's. They would sit below the bleachers and smoke weed until the end of the school day. She never listened to her teachers nor did she do a lot of her school work. Since her sophomore year going into her junior year, she had been playing those kinds of games at school. Her grades dropped from A's to D's in a year, and her G.P.A was now a 2.5. Her Father would try and bribe the school board with thousands of dollars in school investments, just for them to pass her to the next level and not kick her out of school. It worked for her sophomore year, but now his money did not seem to do any good. The school board decided that they could not take her damaging antics any longer and permanently expelled her from the school.
Now, she was forced to go to a private reform school, filled with rich spoiled bad kids, located in the 90210, Beverly Hills area. The school offered strict discipline and high moral standards on its students. Her Father thought it was the right decision for his daughter at the time. If you asked her opinion, she thought it was a gateway to hell.
Lolita's Father, Victor Nash was a top-notch wealthy businessman. He managed and owned a chain of high-class restaurants in the California area as well as a few in Manhattan New-York. Her Mother, Sue-Anne, was a high-end fashion designer/ photographer. She made a lot of designs for celebrities and designed wedding dresses for a lot of wealthy locals who could afford her. Her Sister, Candice was a spoiled wealthy twenty-five-year-old college graduate, who got lucky in relationships because of her wealth status and snagged a wealthy C.E.O of a big well-known sales company. Lolita's twin brother, Ryan was the well-rounded side of her. They shared some of the same quality. They both loved art; in which they both loved to sketch. Ryan was more of the painter, while Lolita loved to sketch and draw. They both had the same taste in food, and they both shared some of the same kinds of music. Lolita and Ryan both enjoyed Rock, Pop, and R@B music. Sometimes Ryan dabbled in Hip-Hop music. Lolita was not the kind that listened to depressing metal bands. She was more mellow with her rock selection. They both enjoyed listening to bands like Linkin Park, Gwen Stephani and No Doubt, Paramore, 30 Seconds to Mars, One Direction, Good Charlotte and Cobra Starship to name a few.
Although they were alike in many ways, yet different as well. They did not share the same clothing style. Ryan was more urban preppy, and Lolita had more of a punk vibe to her style. You would describe her style as modern steampunk meets emo. Ryan was the male version of his twin sister. They were fraternal twins that looked a lot alike. They both had Caucasian European and African American mixed-race features of porcelain smooth brown skin, raven afro curls, big brown eyes, cute chiseled narrow structured face, endless face freckles, bow legs, and deep dimples, except Ryan's dimples were not quite as thick as Lolita's.Ryan stood at the average male height of 5'8 inches with a weight of 140 pounds, and Lolita rose at an average female height of 5'1 inches with a slight weight of 90 pounds.
Lolita wanted to be a designer just like her Mother. She kept sketchbooks with her and took them everywhere she went. Lolita loved to sketch unique fashion design ideas and portraits of people she found somewhat fascinating. She had an excellent eye for beauty in people and tried to capture that sort of uniqueness in her sketches.
~~~~
Lolita sat staring at her plate of steamed vegetables and baked chicken. She knew her family was very much disappointed in her behavior. At a time at the beginning of her family's despiteful comments about her, Lolita had tuned them out. She knew they were talking, but all that she heard was blah, blah, blah. She was too busy worrying about what was going to happen tomorrow when she starts school. The school was calledBusy Bee Academy High School. It was in the 90210-area zip-code, a few blocks from where she lived. She remembered passing the building a lot of times on her bike rides. She wondered who she might meet and if the kids there was kind. She thought about her friends at her old school; she would be leaving behind. She did not want to leave them behind. She knew that she had too. Hopefully, they would stop by to visit her, if her parents ever allowed her friends to step foot into their home. Her parents called her circle of old friends, Riff-Raffs. Her Father especially did not except his daughter hanging around with those kinds of people.
Lolita felt her sister nudge her arm, which made her come out of her daydream. "Huh?" she said as she slowly lifted her face up towards her sister.
"Are you listening to anything Father and I are talking to you about?" she asked her with a stern frown.
"Yeah…. I think so!" said Lolita.
Candice displeasingly huffed at her and turned her head to her Father. "Father can you please repeat what you just said to Lita?" she annoyingly asked their Father. "Obviously, she is not listening."
"I said, Lita you better not screw your chances at Busy Bee Academy. This will be your last chance at finishing high school and getting into a good college."
"Don't you think I know that Father?" replied Lolita.
"I'm just making sure. I don't want you screwing things up again," their Father stated. Lolita shook her head and lowered her gaze back down to her meal in front of her.
"And why don't you wash your hair? Wash all that disgusting blue dye out," said Candice as she raised her hand and flicked a strand of Lolita's blue hair streaks.
"Hey, fuck off!" she shouted as she angrily slapped Candice's hand away from her hair.
"Freak!" insulted Candice in a low tone.
"Lesbo !" She shot back.
Candice turned her eyes to her. "Hey, I got a man. You need to get your facts straight, BITCH," stated Candice as she rolled her eyes at her.
"Yeah, and what a dreamboat he is," she mumbled under her breath.
"Hey, I heard that!" Exclaimed Candice with a bitchy attitude. "What is that supposed to mean?" she angrily asked her.
Before Lolita could answer the question, Their Mother intervened and stopped the conversation. "Look, you two, stop throwing offensive words at each other. Candice, finish your meal, and Lita, if your done eating, please excuse yourself and go up to your room," she asserted to both of them.
Lolita angrily slammed her fork down on her plate and got up. "I'm done. I'm leaving," she said with her eyes glued to her Mother. Her Mother frighteningly looked up at her from her sitting position at the dinner table. She took her eyes of her mother and looked at the other members of her family. They did not seem to care whether she left the table or not, so she felt the need not to care neither. She pushed her chair out and walked away from the table.
Lolita walked down the living room corridor and stormed up the narrow staircase of her family up-scale pent house/condo, to her bedroom. When she got to the upstairs landing, her small white furry Persian cat was lying on the soft cashmere carpeting in the center of the upstairs hallway, robbing her back against the carpet's surface and purring.
"Hey there, Snow Ball,"she said as she lowered herself down and picked up the small fat cat in her arms. "At least you don't judge me. Huh, Fat-Cat?" She kissed the furry white creature on its ear as it purred into the fabric of her pink tank top tee.
Lolita found her way to her bedroom. She walked inside and placed her cat down on her bedroom floor. The cat scurried off to a far corner in the bedroom. Lolita walked over to her soft cushioned window bed in front of the big glass window of her country French themed bedroom. She sat down on the cushioned seat and opened her laptop. She needed to talk to her friends about what happened at dinner. Maybe they could calm her nerves down a little, before she loses it. She quickly opened her skype application and found two of her friend's profile. She noticed they were still online, which made it a lot easier to chat with them. She clicked on the call button to connect her camera to her friend, Benjamin Webber's camera. The call chimed a couple of times before it got through. Benjamin's Profile picture quickly faded into a real-life picture of him on her skype screen.
SKYPE MESSAGE BOX
Lolita Nash: "Hey, Benji. What's up?"
Benjamin Webber: "Nothing! Just chillin at home in my room. You know how it is. Was up with you?"
Lolita Nash: Nah, dinner was a drag. My family keeps nagging me about my expulsion from school. My dad keeps reminding me not to fuck up at this reform I got transferred too."?
Benjamin Webber: Oh, sorry about your problems with your family Nash. What school you attend now?"
Lolita Nash: "Busy Bee Academy! The one a few blocks from my building."
Benjamin Webber: Oh, I know that school. Damn, Nash, you gotta watch your back up in that place. Mother fuckers gonna fuck you up in there. Don't let that elite private shit fool you."
Lolita Nash: Yeah, I got you! Hey, hold up a sec, I'm gonna add Paige into the conversation…."
Lolita clicked on Page Miller's profile and sent her a skype group call notification. A minute later, Page joined the conversation.
SKYPE MESSAGE GROUP BOX
Paige Miller: "Hey guys! Was up?"
Benjamin Webber: "Hey Paige! Nash here, says she is attending Busy Bee Academy now."
Lolita Nash: "I haven't started yet. I'm starting tomorrow."
Paige Miller: "Oh, okay! I'm gonna miss you Nash. Head Mistress Williams, was so harsh with you last semester. I can't believe that bitch kicked you out for smoking weed on school grounds."
Benjamin Webber: "Yeah, Nash! I told you to put out that blunt, until the coast was clear, but you just did not listen."
Lolita Nash: Head Mistress Williams, has been on my case for a while. She has tried to expel me 3 times before. Because of my Father's money investments, she changed her mind. I think she just got fed up."
Paige Miller: Well girl, I guess you better behave at Busy Bee Academy. What classes are you taking over there?"
Benjamin Webber: "Paige, don't tell her that. She can do whatever the FUCK she wants. Nash, if your gonna smoke weed and skip classes, be smart about it. Don't get caught. I mean, Paige and I do it as you already know."
Lolita Nash: "Guys, Paige is right! I gotta get it right this time. After-all, It is a reform school. It's for bad kids. I can't fuck up now."
Paige Miller: "Nash, do you know your class schedule yet?"
Lolita Nash: "No Paige, I don't! I've got to get it from my new Head Master, first thing tomorrow morning when I get to school."
Benjamin Webber: "Hey Nash, you wanna hang out sometime. I was thinking you could come over next week. I just bought a big supply of cannabis. Not the kind we usually smoke. This shit will fuck up. It's that expensive shit."
Lolita Nash: "Yeah, sure! It might not be anytime soon. My dad has a close eye on me now. I gotta wait until things die down a little."
Benjamin Webber: "Alright Nash! Just hit me up when you're coming."
Paige Miller: "Hey guys, I gotta go! I'll talk to you guys later, alright!"
Lolita Nash: "Okay Paige. Bye!"
Benjamin Webber: "See-yah!"
Paige Miller: Skype Call ended
Lolita Nash: "I gotta head to bed Benji. I gotta get up tomorrow at 6:30A.M for school."
Benjamin Webber: "Alright Nash…. Talk to you later."
Benjamin Webber: Skype call ended
Lolita ended the skype call and closed out of the skype application. She got up from her sitting position at her window bed and walked over to her king-sized canopy bed. She got into bed and glanced over at her night stand alarm clock. It read: 8:30P.M. She still had an hour and a-half to get some reading done, before she called it a night. She reached over to her night stand and picked up a romance novel she had been reading for the past two weeks. It was a Nicholas Sparks novel called, "Safe Haven". She propped herself up in a sitting position under the silk covers and opened the book to where she had left of.
An hour into the book, she heard someone open her room door and come in. She stopped reading in mid-sentence and cocked her head towards her bedroom doorway. Ryan was walking into her bedroom.
"Hey, Lita, I just came to check up on you. Are you alright?" he asked as he sat down on the edge of her bed. He turned to look at her.
Lolita deeply puffed out an exhausted breath. She book-marked her stopping place and closed the novel. "Yeah, I'm good," she replied as she raised her gaze up to him.
"I know how Father and Candice can sometimes be. I wish I could have said something to Candice when she bitched at you about your hair."
"Nah, that's alright. Candice is just an evil witch. I'm used to her negative remarks towards me. Candice can not except that I'm an individual. She wants me to look up to her and be just like her. Well, I say, fuck you, Candice. Who wants to be a stuck up little bitch, who gets everything handed to her so easily. That bitch just likes to be the center of attention," she retorted. "Like, look at me. Look at me. I'm so pretty and hot, and you're not!" Lolita said in a sing-song tone while raising both hands up to her head level in a mocking type of way.
Ryan let out a smothered laugh. "Well, you know Candice," he agreed. Suddenly his eyes changed from being a bit excited and silly to worried. He stared at his twin sister with sorrow in his eyes.
"What's wrong Ryan?" asked Lolita when she noticed his sorrowful demeanor.
Ryan lowered and shook his head. "I just worry about you Lita," he confessed and raised his head back up to her eye level. I just hope you get yourself together at that reform school. I need you to graduate with me, Lita. We made a promise that we would graduate from high school and attend Dartmouth together," he reminded her.
Lolita started to feel a bit guilty. Her big Bambi brown eyes filled with remorse as she stared at Ryan. Lolita did not know what to say next, or the words to say to make him feel better. She felt guilty for letting her older brother down. She knew that they did, in fact, make that promise the summer before their freshman year of high school. Back then, she was not a rebellious teenager. She was not trying to break out into the kind of misunderstood rebel individual that she knew she was now.
"Okay Ryan, I'll get my shit together," she said with a half-smile. Ryan returned the same awkward smile and closed in for a warm embrace.
"I love you, Lita," he assured her as they embraced in a hug.
"Me too Ryan," she replied. They embraced in each other's arms for a minute, until Lolita started to feel a bit uncomfortable. She released his embrace and backed away. "Well Goodnight Ryan," she said as she turned her head to look at her alarm clock.
"Yeah, it's late. We've got school tomorrow," Ryan agreed. "Goodnight Lita," he said getting up and making his way out of the bedroom.
After Ryan left Lolita's room, she started to get ready for bed. She got out of bed and walked into her bathroom. Lolita needed to tinkle. She had been holding her bladder in since she got off her Skype call conversation. Lolita swiftly pulled down her pink gym shorts and underwear. She sat down on the toilet and released her full bladder into the urinal.
As she released her bladder, she looked around her bathroom. Her bathroom had a French style theme to it. It had an oval cast iron tub, a white marble counter and sink, red and black carpeting and red and black decorative towels hanging on racks. Lolita had especially wanted this bedroom theme because it was the finest one in the house. The bedroom was not the biggest, but it was one of the more prominent bedrooms in the penthouse. Her parent's bedroom was the biggest one, followed by her own and then Ryan's bedroom.
She finally got up from her squatting position on the toilet and pulled up her panties and shorts. She walked over to the marble counter and proceeded to brush her teeth. After Lolita was finished, she stood in front of the mirror and pulled her thick curls into a high ponytail on her head and walked out of the bathroom.
Coming into her bedroom, she got back into bed and got under the silk sheets. She clapped her hands together two times, making the automatic light system recognize her clapping noise. The system automatically shut off all the lights in the room. The room fell into total darkness as Lolita settled under the covers and closed her eyes.
~~~~~
The next morning, Lolita woke up to the morning sunlight shining through her window. She groggily opened her eyes to the light and tried to sit up in bed. Lolita lifted her head up and rested her upper body weight on her elbows, as she tried to regain her vision. Then she remembered she had to be at school. She swiftly turned her head to the side to look at her alarm clock. It read: 7:55 A.M.
"Fuck!" she exclaimed. She was almost an hour late for school. "No, not on my first day," she said as she frantically jumped out of bed and ran into her bathroom. No time for showering. I'll just quickly brush my teeth and get dressed, she thought to herself. She grabbed her toothbrush and toothpaste and proceeded to brush her teeth. After she was through, she loosened her ponytail and let her blue curls fall loosely over her shoulders. She swept through her tangled hair until her curls were smooth and detangled to perfection. Then she raced out of her bathroom and walked into her walk-in closet. She quickly found her outfit and slipped into it. When she was finished, she stared at her reflection in her closet mirror. She admired her black hat, with matching wool gloves over both of her hands, black upper arm belt bands, cream-colored button-down baby doll shirt under gray over-all shorts, black thigh high tights, grey leg warmers and matching grey suede pumps. The steampunk outfit was finally complete. Before she raced out of her room, she grabbed her sketch pad and pencils from underneath her bed and placed it inside her book bag. She snatched her apple cell phone from her nightstand and walked out of her room.
The Steampunk fashion wear, Lolita wore on the first day of reform school.
As she raced down the curved staircase, she almost bumped into her Mother, who was making her way up the stairs. "Sorry Mother, late for school," she cried out as she maneuvered her way past her Mother.
"Be Careful Lita," she heard her Mother cry out to her as she ran out of the penthouse double front doors.
Lolita ran down the fifth-floor corridor towards the elevators. "Hold it," she cried out to the two residents who were now boarding the elevator. It seemed like they did not hear her because they made no effort to hold open the elevator doors. Unfortunately, she was not able to catch up, and the elevator closed its doors.
Lolita stood by the elevator lift and waited for the elevator to come back up. As she waited, she decided to pull out her iPod and listen to her playlist. Lolita opened her book bag and dug inside for her iPod. She grabbed it from the bottom of her bag and placed her headphones in her ears.
As she hummed to one of her favorite 80's classics, the elevator lift finally came back up. It opened its doors to let her in. She finally boarded the elevator, which took her down to the lobby.
The elevator stopped and opened its doors on the first floor. Still humming to her music, Lolita walked out of the elevator and made her way into a storage room near the elevators. The storage room was where the residents, usually kept their bikes, or any other motor vehicle on wheels, except cars off-course. She swiftly walked over to her ten-speed, hot pink bicycle. She loved this bike because the bike was given to her as a Christmas gift from her Grand-Mother who just recently passed away two years ago. It was a way of remembering her Grand-Mother. It even had a small basket attached to the front of the bike.
Lolita bent down and unclasped the chains from the iron railing. She placed the bike chains inside her book bag and pushed her bike out of the storage room. As she made her way out of the penthouse building, she heard the front desk clerk speak to her.
"Have a nice day Miss. Nash," said the female clerk.
Lolita turned her head and nodded a farewell gesture before she walked through the swinging doors with her bike. Outside, she propped herself up on her bike and peddled her way down the walkway streets of West Beverly Hills towards the Academy.
~~~~
When Lolita finally drove her motorbike into the school grounds of Busy Bee Academy, she noticed the parking lot was already filled with cars and the bike racks that were in front of the outside court-yard was almost filled up. There were very few students arriving on school grounds because it was nine-o'clock A.M, and the first class of the day was already in session.
Lolita swiftly got off her bike and parked it in one of the empty bike racks. She chained her bike up and proceeded to walk towards the front of the vast castle styled private school. As Lolita made her way towards the front steps, she heard someone come up behind her. She cocked her head back to see a charming guy on a skateboard rolling towards her. The guy's unique physical features automatically caught her attention. He was not only attractive with short dusty blonde hair and a tall stature but had that, "Don't fuck with me or I'll cut your dick off," vibe to him. She was automatically mesmerized by him. She watched him as he rolled past her and gave her a crooked smile like he wanted to be pleasant, but he was trying his hardest to fight the urge.
He came to a stop at the entrance to the school and flipped his skateboard upwards with his feet. He quickly caught the board and walked up the narrow front steps, clutching his skateboard to his side. Lolita walked up the steps after him and into the spacious front corridor. She took her headphones out of her ears and placed her iPod back into her book bag. As she walked down the empty hall, she studied the cute boy with the skateboard walking a few yards in front of her. He was tall and slim; he looked to be no more than 6'4 inches. He had on a backward baseball cap that covered his messy blonde locks, a black bumper jacket, fitting dark jeans, and a pair of red high-top sneakers on his feet. She studied his backside until he turned a corner and disappeared.
After he was gone out of sight, Lolita noticed she had to use the restroom. She quickly walked towards the toilet. She dashed into the women's bathroom and walked into the nearest vacant stall.
As she squatted down on the toilet, she could not help but notice some words and phrases embedded in the stall wall. Words that said, "Eat Shit!" and "This is not a restroom stall, this is a Glory-hole, so bring out the cocks, BITCHES!" There were drawings of cocks and pussies everywhere in the stall. Lolita found the words to be obscene and disgusting, but she could not help but find them to be strangely humorous.
After she was finished, she walked out of the stall and washed her hands in one of the sinks. She dried her hands off and started to walk out of the restroom. As she stepped out of the toilet, she almost bumped into another female student.
The tall blonde looked at her like she was something bizarre and unusual sight to see. "Watch it, Short-stop!" she said with a bitchy attitude as she stood in front of Lolita.
Example of Islabella's look on the first time she came in contact with Lolita!
"Ssooorrrryyy," replied Lolita in a rude sing-song tone. She stepped to the side to let Princess Guinevere enter the restroom. The tall blonde growled at her and annoyingly rolled her eyes as she pushed the restroom swinging doors open.
Lolita did not overthink the hot blonde with the fake golden tan that she just encountered; all she was thinking about was making it to the Administrative office before the next bell rang. She did not want to be bombarded with students running down the hallway. Lolita did not want to get knocked over. She was a short little thing that nobody would even notice coming towards them, even if they tried. At- least that's what she thought of herself.
She quickly picked up her pace and briskly walked the rest of the way to the administrative office. When she got there, she stepped up to the secretary desk. An elder woman with black-rimmed glasses sitting on the rim of her nose sat behind the average sized table. Lolita could not help but notice her odd old-fashion attire. She looked a lot like Mrs. Doubt fire in the dress she was wearing.
"Hi, may I help you?" asked the woman.
"Yes, I'm the new transfer student from Halstrom Academy. My name is Lolita Nash."
The woman stared blankly at Lolita. It seemed like she was trying to collect her thoughts. Finally, she raised an alert eyebrow and spoke. "Oh, yeah…. You're the new girl from Halstrom. I have your class schedule somewhere around here," she said as she searched around her desk. Her eyes finally focused on a piece of paper underneath a stack of files. "Oh, here it is." She reached across her desk and pulled the piece of scheduling paper from underneath the stack of files. "Here you are." She handed Lolita her schedule. Lolita gladly received it from her outstretched hand.
She read through the list of classes and let out a repressed gasp. She had gymnastics as her fourth class of the day and drama was the last category on the schedule. The rest of her classes where Advanced placement courses. She did not want to be put in drama class, but she knew it was an elective she had to have to graduate. She guessed the reason why it was arranged in such a way, was because the Head Master did not want her to skip classes anymore. It was not like she was planning on it anyway. But if she was to skip class, then this just made it ten times more impossible for her to do. She thought maybe she could get it changed around.
"Hi, umm…," she said as she searched the desk for a name. She finally spotted the secretary name tag. "Miss. Cookie Crackenbush, can I change my last class to an earlier time in the day or maybe switch it up?" she asked her with a snicker in her voice. The woman's name was, in fact, hilarious and oddly strange.
"Miss Nash, I don't think now is the time I will be able to do that. I think it is best if you talk to Head Mistress Tiny-Kox. But she is busy right now. You can come back later in the day if you want. I think her office hours are from noon to six," she informed her.
"Okay, thanks, Miss. Crackenbush." Just then a young slightly chubby student carrying a stack of files in her hands walked into the receptionist area. The girl looked to be around her height level and had an emo hot pink hairstyle, a blue Superman tank top on and a sexy pink tutu skirt to match. A pair of black designer pumps covered her feet. She set the files on top of the receptionist desk and looked up at Lolita.
Example of Rayna's look! Example of Lolita's look! Love the hair!
"Oh, Miss Nash, this is my assistant Rayna Mendez," she said introducing Rayna to Lolita. Rayna can be your guide around the school for the rest of the week or until you learn the ropes around here. I will have her show you to your next class, which is coming up in about ten minutes. The bell should be ringing anytime now. She turned her head to look at Rayna. "Rayna, please show miss Lolita Nash to her next class."
Rayna nodded her head in agreement. "Yes, Miss. Crackenbush." She walked around the receptionist area, to the other side. "Come on, the bell should be ringing soon," she said as she gestured for Lolita to follow her out of the Administrative office.
As soon as they entered the hallway, the end of class bell rang. The classroom doors quickly flew open as kids piled into the halls. Lolita and Rayna walked side by side down the school corridor as students began to fill up the hallways. As they walked close to the hallway lockers, trying not to get knocked down by out of control students who were playing around in the halls, Rayna handed Lolita a map brochure of the school grounds.
"The map will guide you around, anytime I'm not around," she said to her.
Lolita opened the brochure and stared down at the somewhat complicated map. "What do the colors represent?"
Rayna leaned over to view the map in Lolita's hand. "Oh, if you look below the map, there is a key that shows what the colors mean." She pointed to a red area on the map. "That is where the cafeteria's located," she affirmed her. "In fact, we are just about to pass by."
As they passed the Cafeteria's entrance, Lolita cocked her head to the side to get a better view of the inside of the cafeteria. It was a vast, spacious area, with lots of round tables and chairs spread out. There was a buffet area on the right front side and a large glass window to the left that covered and served as a wall. It overlooked the courtyard grounds. Nearby to the buffet area was a lounging area with a grey sectional and a small center table in front.
"It has fairly decent meals, but most of the popular cool kids usually eat a the Beverliz Café down the road. It's about a good 5 to 8 minutes from here," she affirmed as they passed the cafeteria.
"Oh, Okay." Lolita nodded her head in agreement.
"Let me see your schedule. I can show you to your next class." Lolita handed Rayna her schedule. Rayna took the small brown construction paper and stared at the print on it. "Oh, you have Mr. Humbleburger. He is a pretty cool Anatomy and Physiology teacher. He is on the second floor, Room 202. I see we have one class together, A.P Calc…. Cool! Miss. Fitz can be kind of boring, but I take it you know what you're doing, so the calculations can be fun for you."
Lolita nodded in agreement. "Are you a Senior?" she asked Rayna.
"Yeah, that's why I work in the Administration's office. I'm pretty much done with most of my credits. I just need two more class credits, then I graduate. I'm looking to graduate this spring."
"What's your G.P.A?" asked Lolita. She found the desire to know more.
"Oh, a perfect 4.0, but you know how private school G.P.A can range. I probably have a 4.5 or something. I'm not sure yet."
"Oh, okay…. Cool, I guess."
"What's yours?" asked Rayna.
Lolita suddenly got quiet. She was too ashamed to admit her G.P.A average. She did not want to reveal to Rayna that her G.P.A was below a 3.0 which was the borderline average. Her 2.5 average was well below borderline. It was a pathetic excuse for a G.P.A. But she knew why her G.P.A was the way it was. She was not a dumb person, that was for sure. She just hung out with the wrong group of friends who dumbed her down, because she did not care enough to stop it. During her freshman year, her G.P.A was a 3.9 average at the end of the school year. After that, everything went haywire. She decided she would tell a little white lie, just to look and feel better about herself.
"Um…. My G.P.A is about the same as yours," she lied.
Rayna gave her a dumbfounded look and nodded her head in agreement. "Oh, okay!"
Just then, Lolita looked up and saw four beautiful girls with exceptional designer wear on, click their beautiful heels down the long corridor, coming their way. The guys they passed were practically drooling over them. In fact, it was not only guys, but it was also other girls. Lolita was blown away by their physical. "Wow! Who are they?" she asked Rayna.
Rayna followed her gaze to notice the four girls. "Oh, those are the four Queen Bees." They practically rule the school," she declared. "They are also the richest bitches on campus. The Blonde, tall one in the middle, that's Islabella Devlin. She is the Queen of all the Queen Bees. She has a mouth and attitude that won't wait. The one on her left is Kia Keegan A.K.A Kiki. She is the most beautiful Black Queen you will ever lay eyes on…. and the mouthiest. The plump brunette snob to the right of Islabella, is Elisabeth Nelson, A.K.A Lizzie. She is the cute short Queen, and the strawberry blonde one next to her is Addilyne Cruz. She is Islabella's second hand, Queen. If you fuck with Islabella, you must deal with her. Let me tell you, that girl will fuck you up, not to talk about her and Islabella teaming up. Can we say, some serious Queen Bee power!" she stated.
Lolita was mesmerized by the four girls. She wondered if they would ever befriend an individual like her. Not knowing that it might be something that she might just regret, once she gets to know them. Lolita recognized the tall blonde Queen. She was the girl she almost bumped into earlier while coming out of the restroom. Lolita wondered if she even gave a thought to her after their awkward encounter.
As Lolita and Rayna walked passed the four girls, she noticed Islabella give her a rude observant up and down look while the four girls walked by them.
"What was that about?" asked Rayna as she noticed Islabella's rudeness towards her new friend.
Lolita turned her attention back to Rayna. "Islabella and I kinda know each other," she confessed.
"Oh…. How?" Rayna seemed very interested to find out more.
"Well…. We ran into each other earlier this morning while I was coming out of one of the front lobby restrooms."
Oh, okay," Rayna said nonchalantly. "Did she say anything to you?" she asked as they started up the staircase.
"Nah, she just said something rude to me."
"Like, what?"
"She called me a Short-stop and told me to move out of her way."
"Yeah, that's Islabella for you. She's a BITCH!I call them the four QUEEN BITCHES."
Lolita chuckled out a small giggle. Rayna replied with a laugh.
They walked the rest of the way up the stairs and walked down the second-floor corridor. As they neared Room 202, Lolita spotted Mr. Cute and Mysterious on his skateboard, rolling towards them.
"What's his name?" asked Lolita as Mr. Cutie came rolling closer on his skateboard.
"That's Ryan Nolan. He is what you call, the bad rich spoiled brat," she stated.
Lolita noticed Ryan had the same name as her twin brother. She found it a bit strange and wondered how weird it would feel for her, if she ever got the chance to kiss those sweet red dainty lips of his, knowing that he shared a name with her twin. Lolita watched as Ryan rolled passed them with his eyes glued to her. She felt like his eyes were burning right through her skin with those sparkling baby blues of his.
"Hey, Ryan, no skating in the building," Rayna shouted back at him.
"Hey, eat me Fat Cow!" he yelled back at her.
Lolita turned back to look at her friend. She had a hurt look on her face. She looked like she just got hit by a thousand-pound brick. Rayna was sadly staring down at the floor as they continued towards Room 202. She could tell Rayna's confidence was crushed big time.
Lolita felt sorry for her. Ryan should not have made such hurtful remarks. She decided to say something, perhaps to cheer her up. "Hey, are you okay?" she asked her.
Rayna lifted her head up slightly. She looked like she was struggling to stay positive. "I'm fine. Here's room 202," she said as they stopped in front the entrance to a Biology lab.
"Hey, don't worry about him. You're not chubby. I like your size," Lolita said while observing Rayna's frame up and down. Your size looks good on you," she affirmed. "Just try to stay positive, okay."
"Okay," said Rayna. For some reason, Rayna's answer did not seem as reassuring as it should. "I'll meet up with you during lunch. Meet me in the commons area. We can grab lunch at Beverliz," she said with a cheerier attitude.
"Okay, cool!"
The two new best friends said their goodbyes as the second bell rang. They quickly parted ways. Lolita walked into the almost filled up with student's lab and took a seat at a lab table by the window. She waited quietly for the class to begin.
----------
Ryan Nolan flipped his skateboard up and caught it with one hand as he stood directly at the foot of the upstairs landing. He was trying to fight the urge to want to trace his steps back to where he saw her if possible find her and talk to her. The beautiful brown skin sugar with the unique style, he saw earlier walking into the building and now, just passed a few seconds ago. She was very captivating in his eyes with those piercing big brown eyes, cute little dimples that complimented her striking face, kissable pink thick lips, beautiful bow legs, and creatively unique manner. He had also noticed she was on the short side. He thought short petite girls like her were cute. All those physical features made her stand out more to him. He felt drawn to her attractiveness, and he had to know her soon.
As he dashed down the staircase with his skateboard attached to his right side, thoughts of her continued running through his mind. He walked down the hallway, towards the commons area. He had study period now, and he was not in the mood to sit in a deafeningly quiet room for 45 minutes and watch people around him nervous fidgeting. Ryan did not know why he had that class. He never studies, even at times when he did attend. Hell, nobody did neither.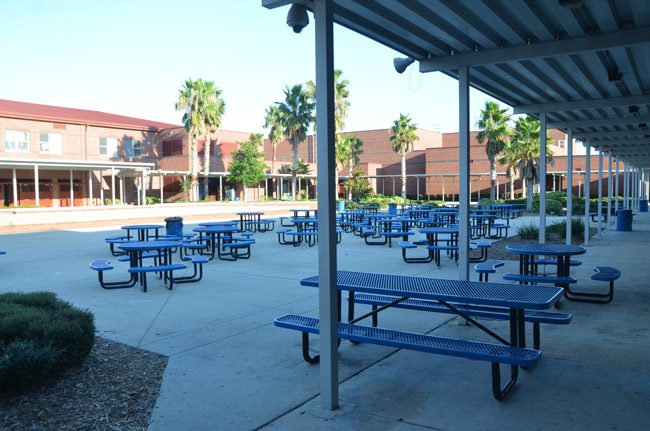 ?
As he walked into the commons area, he saw his two friends, Aaron Samuels and Ahlam Wilder sitting at a table out in the courtyard. They seemed to be engaged in conversation. Aaron was Ryan's best friend. They knew each other since they were ten years old. They were once next-door neighbors. That was kind of how they knew each other and grew to be best friends. Ahlam kind of fell into the picture. He was not sure how he and his friends befriended her, but it was not a bad thing. She was a lesbian, so it was not very hard for him and his pals to be friends with her. After all, she was kind of like one of the guys. Ahlam was a strikingly beautiful, chapstick lesbian, who enjoyed sports, drinking, and partying with the guys.
Ryan walked through the central commons area and out through the exit door. As he walked over to his two friends, they both looked up and noticed him approaching.
"Hey bro. I did not know you were coming over," said Aaron as he raised his fist to give Ryan a hand dap.
"You know how much I hate study period," stated Ryan as he returned the dap and sat down next to Ahlam.
"Was up, A?" he said as he stole a glance at Ahlam and back to his best pal.
"Nothing much," she replied.
"Hey man, did you see that new girl?" he asked Aaron.
"What new girl?" he was confused.
"The short black girl with the amazing style and unique vibe."
"No, I don't think I saw her. Why?"
"Well, she is very gorgeous. I saw her earlier when I was coming in and just now on the second floor," stated Ryan.
"Oh, nice. She sounds very interesting."
"Yeah…. I guess she's in our grade because she was up on the second floor. That's where most of the junior classes are."
"Who's this girl?" asked Ahlam.
Ryan turned his attention to her. "Oh, a girl I passed by several times today."
"Huh, nice!" she said. She took a drag of her cigarette and blew out the fumes.
"Do you know her name?" asked Aaron.
"No, but I will," he answered.
"Man, bro, I hope she is not like one of those sick psycho bitches you've dated in the past," his friend warned him.
"Nah, bro... This girl seems different. I don't think I would look at her and think that. She seems very cool, amazingly sexy and cute, and down to earth, you know? Plus, she's short with a pair of sexy bow legs. You know how much shorty's drive me wild," he responded.
"Yeah, yeah, yeah…. I know!" said his friend in a jealous manner.
"Just be careful, bro. I don't want to see you get hurt anymore," suggested Aaron.
"Yeah, I know."
Aaron turned his attention away from his friend and pulled out a carton of smokes. "You want one?" he asked Ryan as he pulled out a cigarette from the packet.
"Yeah, sure!" He replied.
His friend pulled out another cigarette and handed it to Ryan. Ryan reached across the table and grabbed it. He put the cigarette between his lips as his friend leaned across the table to light his cigarette for him.
"Thanks, bro," said Ryan as he took in a drag of the nicotine content and blew it out.
"No problem," replied Aaron.
They sat quietly for five minutes, taking drags of their cigarettes and blowing it into the air until Aaron looked at his watch. "Hey, I'm gonna take off. I have to head over to the library and check out a book; I've been waiting to check out for a month now. Don't worry I'm not reading for pleasure. It's for research," informed his friend as he prepared to leave.
"I'm gonna take off too," said Ahlam. "I got somewhere to be." She put out her cigarette and stood up to leave.
Ryan watched as his two friends walked away and headed back into the building. He decided he would sit at the table and enjoy his cigarette until the next bell rang in twenty-minutes time. Ryan leaned back in his chair and took another drag of his cigarette, while images and wild thought of the black girl he noticed earlier kept running through his mind as he waited.
© Copyright 2019 breakfast@Lola's. All rights reserved.