Porcelain
Chapter 1-October 31, 1988(The possession of the doll)
It was Halloween night and Aileen Black sat on her bed skimming through a magazine about the dark arts. It was also her birthday on this day. She was turning nineteen years old. Aileen was a young witch who had very special dark powers. She was not only very powerful; she was also an evil witch. She did spells for evil and not good. She could move things with her mind and could control other people's minds. Those were her special powers which were passed down from generation to generation in her bloodline. Her grandmother was a very powerful witch; she taught Aileen everything she knew. Aileen developed her powers when she turned sixteen and now on her nineteenth birthday; she had something special in mind. She wanted to transfer her soul into her most beautiful doll she had.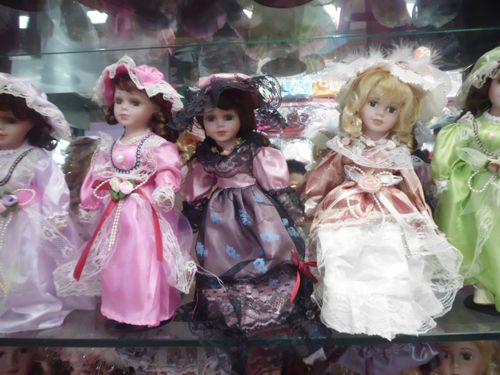 Aileen collected porcelain dolls. From ceramic to bisque; she had them all. She had lost count on how many dolls she had. The last time she counted them she had more than three hundred dolls. She had dolls all over her room; some in cases and some on her bed. Aileen put her magazine down beside her and turned around to face her dozens of dolls that was spread out in rows at the head of her bed. Her bed was full of dolls. She carefully studied each doll's face with her eyes until her eyes fell on a very unique porcelain doll. This doll was her favorite. It had gorgeous porcelain pinkish pale skin with pink flushed cheeks and black glass eyes. It's curly greyish dark hair was pulled into a pony tail and it had on a red old English dress to complement its ruby red stained lips and a grey hoody with matching grey colored shoes.
She slowly picked up the doll and studied it. "This one's perfect," she said. She needed a doll for her soul to go into and standing at 23.5 inches this doll was the perfect one for her. Aileen wanted to be beautiful like the doll. She wanted everlasting beauty. She never wanted to grow old or die. She did not want to be like her grandmother; in her death bed dying from old age. She wanted to be young forever; even if it meant sacrificing her soul.
She gripped the amulet around her neck. This special amulet necklace was given to her by her grandmother. Her grandmother at the time was on her death bed. The amulet added to her powers. She was to wear it at all times. She need the amulet on her neck during the spell she was to make tonight; it would help her with her transformation.
Just then her room door flew open and her best friends and fellow witches, Margarete and Helen walked into the room with a chocolate cake in their hands.
"Happy birthday Aileen," stated Helen as she walked towards Aileen. Aileen scooted to the edge of the bed and sat down, while Helen placed the cake in her lap.
"Make a wish and blow out the candles," said Margarete. Aileen closed her big brown eyes and signed. A few second later she opened them and took a big breath in; and then releasing it. The candles flickered against the air and then blew out.
"What did you wish for?" asked Margarete.
"you know what I wished for. The only gift I want for my birthday," said Aileen.
Both girls looked at each other with a dumbfounded look on their faces. "Huh; do I always have to remind you guys. I wished for my soul to successfully go into the doll of my choice. Don't you remember we are supposed to do the ritual spell tonight," said Aileen.
"Oh that one," they both said in unison.
"We will miss you Aileen," said Margarete.
"Yeah we will," said Helen as she gave Aileen a hug.
"Just get the spell done," said Aileen.
"Let's eat some cake," said Helen. She grabbed the knife from the tray and cut a few sliced of cake. "Do you know the spell?"
"Yes I do and I hope you two do too," said Aileen.
"Yes we do," said Margarete.
Aileen picked up the cake and placed it on her bedside table. She reached back and picked up her favorite porcelain doll.
"Is that the doll?" asked Margarete.
"Yes; remember it is at mid-night. I will meet you guys at mid-night in the cemetery behind my house. In the meantime, get the grave ready," said Aileen.
"Okay," said Helen.
"Is there anything else you want us to do for you before we go?" asked Margarete.
"No, just get a fresh grave dug up and ready."
Both girls nodded and walked out of the bedroom.
After the girls left; Aileen studied the doll in her hand some more and then placed it back in it place amongst the other dolls.
Later that night Aileen grabbed the doll and slowly got out of bed. She carefully sneaked out of the house and walked to the cemetery behind her house. When she got there, she saw her two friends standing by a deep shallow grave with lit candles spread out all around them.
"It everything ready?" asked Aileen as she approached them.
"Yes Aileen; everything is ready," said Helen.
"Let's begin." Aileen carefully placed the doll down beside the grave. She got down on her knees and placed her right hand on the doll's chest, while her other hand held Helen's hand. She started chanting a soul possession spell in Latin. "Omnipotenti deo cupio vim ex profunditate animae meae, a vertice capitis ad plantam da mihi potestatem, hoc est praeceptum meum (To the almighty Gods, I want the power, From the top of my head to the heel of my feet, give me the power, this is my command.) She chanted those words several times while her two friends held hands and chanted "By the power of three I transfer Aileen soul to this doll."
Suddenly it started thundering and lightening. The earth was full with water and the skies was covered with darkness and lightening. It thundered and lightning so bad that a jolt of lightning fell from the sky and struck Aileen in the chest. If it would have struck her a little bit to the right, it would have gotten to her heart. She fell down to the ground beside the doll.
Her friends started to panic when they saw their friend go down. Not knowing that Aileen soul had already transferred into the doll before the lightning struck her, they quickly rolled her body into the shallow grave. They quickly started to gather wet soil and put it into the grave until Aileen was fully covered 6 feet deep inside the grave. By the time they were done; the clouds had cleared and it was not raining any more. They grabbed the doll and left the cemetery.
****
Aileen soul is now in possession of the doll. The two girls now own the doll. Everything is fine until Helen decided to sell the doll. Aileen doesn't want to be sold and kills Helen with a butcher knife as she sleeps at night. Margarete owns the doll now, but later on sells it to a doll store owner. The doll was later bought by a little girl named Susie, which become the doll's first victim. Aileen sees Susie and sees how beautiful and delicate she is. She studies her and wants to be her. She decided she wants to reverse the spell and put her soul back into a human body, which is Susie's own body. In her quest in doing so, she uses her powers to kills off all of Susie's family members. In the end; out of rage, the doll pushes Susie out of a two story window, to her death down below. The authorities lock the doll up; later on selling it to an antique store, which the doll has been there until present day.
Comments are Welcome!!
© Copyright 2018 breakfast@Lola's. All rights reserved.