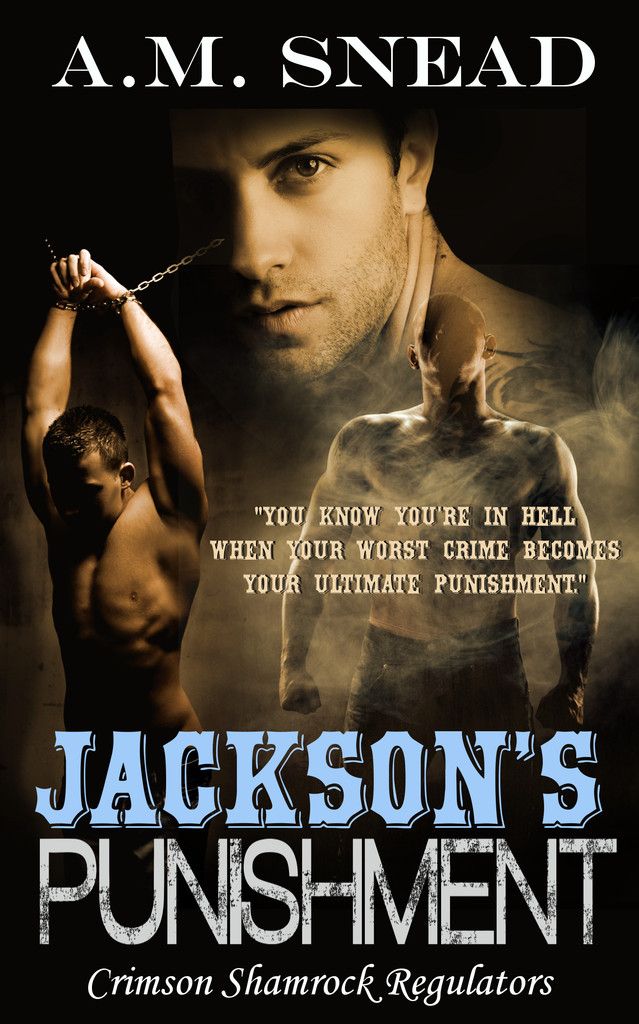 Jackson snapped the cell closed and stared thoughtfully at the woman on the bed. He considered the conversation he'd just had on the phone. The woman's sister had clearly lost her mind, but in doing so had also untied Jackson's hands. He suddenly felt more free than he'd ever felt with any of his other women. She was now at his complete disposal. And even though a dull, heavy ache was still sitting solidly in his groin from the woman's foot in his balls...he smiled.
But it was clear the woman was shutting down and that wasn't acceptable. That wouldn't do at all. Jackson went to the bag and took out a small hand held camcorder and a mini tripod. He set it up on the bureau directly across from the bed, angling it for the best possible, most revealing shots. He pressed the record button.
"Wake up, beautiful." He turned towards the bed. "You're on Candid Camera."
She reluctantly opened her eyes and lifted her head, looking at him, then past him to the camera. "What...what're you doing?" She rasped.
"Doesn't every beautiful woman want to be immortalized on film?" He grinned and returned to the bed. He gripped her ankles with both hands and slowly slid his hands up her legs as he rested one knee on the end of the bed. His gaze rested heavily on her exposed heat. "And you, baby," he groaned with strong sexual craving. "I'm going to make a super star."
The woman visibly cringed and tried to yank her legs away from his touch. He smiled and squeezed her thigh muscles firmly. God, she had sexy legs. He leaned in and kissed her left inner thigh, licked it then bit the tender flesh. She gasped and cried out unsteadily as his teeth pinched her skin. He wondered what her blood tasted like. He'd never actually drank human blood before. He'd crossed many lines that could never be uncrossed, but he had yet to cross that line. Yet, the curiosity weighed on him more and more with each woman he brought under his control. He was beginning to crave them in ways that far surpassed the sexual realm. And yet, the thought of crossing that line stimulated him in such a powerful, sexual way that the thought alone could nearly bring him to orgasm.
He chuckled as he released her skin and his thumb rubbed over her thigh where his teeth indentions remained.
You really are one sick son of a bitch, Jackson my man.
His hands slid further up her inner thighs as he leaned in closer and sniffed. "Mmm, you smell so good."
The woman shuddered. He could make her cum at will. That reality alone made his cock leak. The women were totally at his command. It appalled them when he made them cum...which turned him on to great lengths.
"I should've brought my mini recorder," he groaned. "This calls for an extreme close-up." He teased her with his tongue.
His cock was hard as granite and he pressed it into the bed, rubbing it hard against the blankets as he continued to torment her with his tongue. She flinched hard and tried to muffle her cries. He was turning her on whether she wanted to be turned on or not. And that only engorged his dick more. He ground it hard against the bed as he tantalized her, drawing her orgasm to a head as his own orgasm rose along with it.
"Fuck," he gasped. Did it feel as good to a woman to get her pussy sucked as it did for a man to have his cock sucked? His silent question was answered as she suddenly cried out sharply, her body arching slightly as her orgasm burst forcefully. The feel of her surrendering, submitting –turned Jackson's cock to solid steel.
"Oh my God," he gasped hard, trembling. No other woman had ever had this powerful of an effect on him. He wasn't sure he understood it, but it excited him to no ends. He moved up quickly and took possession of her as the lingering effects of her orgasm caused her inner muscles to spasm and squeeze his member. He released a strangled cry and lost control.
He couldn't stop. He felt obsessed, out of his own control, and that freaked him out, but at the moment, he could do nothing about it but give in to it.
?
Blackness surrounded him as he came out of the dream-memory. Something hard was digging into his back and he shifted. His entire head hurt like a motherfucker and made it extremely difficult to focus his thoughts and remember what the hell had happened.
Owen Briggs had come home. He remembered that. He remembered the intense rage in the man's eyes as he threw him to the floor and began to beat the shit out of him. He remembered coming to the realization that he was going to die.
Well, he wasn't dead. He could hear the sound of the car, feel the movement as it sped down the highway. He'd been dumped into the trunk –naked. But by who? Owen? Somehow he didn't think it was Owen. The man had been pissed off enough to just kill him right there in the bedroom. But he hadn't. What had stopped him?
He's gonna cut your fucking balls off.
The woman's words beat against the inside of his skull.
You are so fucked.
She hadn't been talking about Owen, but she'd refused to tell him who it was. That's why he'd hit her.
The car suddenly swerved off the smooth paved road and onto a rough, gravel road. Jackson grunted as the car jounced over the rough road, knocking him around the trunk.
"What the fuck?" He tried to brace himself with his arms.
Where the hell was he being taken? And what would be done to him once they got there?
He fumbled around the dark trunk, searching for something, anything, he could use as a weapon. He may die tonight, but he wouldn't go down without a fight.
The car rolled to a stop and the engine died. Jackson's pulse raced wildly. He grabbed blindly in the darkness. Car doors opened and slammed shut. There had to be something. Footsteps crunched in the gravel, at least two men. His hand fell on a tire iron. A key slid into the trunk lock.
His hand closed around the weapon as the trunk lid popped loose.
Come on, motherfuckers. Let's dance.
?
Tony drew his weapon and held it ready. He nodded at Sammy. Gripping the baseball bat in one hand, Sammy popped the trunk and threw it open.
Their passenger came out of the trunk like a viper striking at its prey, tire iron clenched in one fist, swinging wildly. The weapon grazed Sammy's face, leaving a minor scratch in its wake as Sammy lunged back, avoiding a full on crack to the jaw.
"Motherfucker!" Sammy clamped both hands onto the baseball bat, choked up a bit on the handle, and brought it around like a pro hitter and caught Jackson in the gut, knocking him back against the trunk with a loud grunt of pain. Somehow the bastard managed to hold onto his weapon and lunged forward again, a bit more awkwardly but still dangerous.
A strangled growl erupted from Jackson. He sprang for Sammy.
Tony stood back, his weapon lowered but ready. Sammy might seem just a sexy pretty boy to some, but Tony had seen him take down guys twice his size. Jackson didn't have a prayer.
The fat tip of the wooden bat caught Jackson in the face, spinning him around. Blood sprayed from his mouth as he dropped like a sack of potatoes. Sammy stepped forward quick, the bat already cocked back over his right shoulder again, biceps bulging.
"Enough!" The deep voice boomed from the shadows, halting Sammy instantly.
Tony turned slowly and watched the looming figure steadily appear through the lightly falling rain, forming out of the darkness and mist like some Frankenstein monster from an old horror movie.
Sammy squeezed the bat fiercely, lowering it only a bit as he backed away from the man on the ground and the one coming towards him.
"Jericho." Tony put away his weapon but wouldn't hesitate to draw it again in a moment's notice.
Jericho moved past Tony without acknowledgment. The man was truly of monster stock, a good six-foot-six or seven and build like a stone mountain. Tony suspected the man would have been locked away long ago if there had been a cage strong enough to hold him.
"If you damage him, Sammy…" Jericho's steel gray eyes bore into Sammy from beneath a thick, strong brow. "…you'll have to take his place."
From where he stood, Tony saw the shudder run through Sammy. The younger man took a few more steps back, clinging to the bat like a shield. Yes, Sammy had taken down guys as big as Jericho. But Jericho was a breed all his own and had Sammy swung on him, Tony was fairly certain the bat would've shattered into splinters against Jericho's granite frame.
Jericho stopped when he came to the man on the ground but his eyes remained on Sammy. Even Tony couldn't prevent a shudder from running through himself as he watched the formidable man study Sammy like a starving predator surveying its next feast.
Sammy was clearly afraid to take his eyes off Jericho, as if the man might pounce once he looked away.
"Don't be frightened, Sammy," Jericho said as his eyes raked over Sammy's solid, muscular body. "I could never mar such perfection." His eyes narrowed suddenly and he cocked his head just a bit as he stared at the minor cut on Sammy's face. He stepped over Jackson's groaning form and approached Sammy in a flurry of long, quick strides. Sammy tried to move away but Jericho was right there before he could flee.
Sammy's chest heaved –short, fast breaths gusting from his throat –as Jericho reached out and traced his fingertips over the small gash on Sammy's cheek. A real rage flared up in Jericho.
"Did he do this?" Jericho spoke low, barely audible, but Tony knew his words were ricocheting like bullets inside Sammy's head.
Sammy's eyes were wide. His throat worked fast as his pulse shot through the roof.
Jericho stood just inches from Sammy, his fingers lingering on the younger man's face. Tony's attention was drawn to Jericho's free hand, hanging at his side –twitching, then flexing loosely. Tony slowly reached inside his jacket and gripped the butt of his weapon. He fucked with Sammy about Jericho, but the man was unpredictable and extremely dangerous –and had a strange, disturbing fixation with Sammy, one that Tony understood but didn't necessarily trust and he wouldn't hesitate to blow the man's brains out if he suddenly became a real threat to the younger man. Tony viewed Sammy like a younger brother, and in every situation they found themselves in, his safety was Tony's first and foremost priority.
"Easy there, Tony," Jericho said without looking around. "I mean your boy no harm." He let his fingertips fall away from Sammy's face, stroking down the younger man's jaw line as they went. He gave Sammy one last lingering, longing look before turning back towards his gift. His body instantly tightened as he walked to the man on the ground. Jericho turned and cast another glance at Sammy's slightly scuffed face then drew his foot back like a sledge hammer and nailed Jackson in the side with enough force to flip the man over onto his back.
Tony's brow raised as he shot a quick look at Sammy, who was watching the scene with a kind of sick horror on his nearly perfect face. He had to stifle the chuckle that rose in his throat. He could only imagine the thoughts spinning through Sammy's head right about now as Jericho –in his own twisted, brutal way –defended Sammy's honor.
?
Blackness enveloped him as the air was forced from his lungs by the violent kick to his side. Jackson felt his body lift off the ground and flip over, smacking down onto the wet, muddy surface beneath him. He was still naked but that was the least of his concerns.
A huge, powerful hand gripped his throat, squeezed until the blackness swelled in tighter, then jerked him up off the ground and slammed him against the side of the car. Jackson's feet barely touched the ground and still his assailant towered over him. He couldn't see him, his vision black. But he could feel the other man's breath surging against his forehead. His immense, solid frame pressed against Jackson, pinning him tightly to the vehicle.
Jackson sucked for air, but his chest was being squeezed and compressed by the pressure of his captor's powerful body. Something extremely hard and rigid pressed into his lower abdomen. Horror and revulsion swelled up inside him when he realized it was the man's cock digging into his gut. And from the feel of it –he was monstrously endowed.
The man shoved hard against him, causing his erection to grind painfully into Jackson's stomach. His assailant was clearly turned on, to massive proportions. Suddenly, Jackson's lack of protective clothing was a concern.
A fresh wave of revulsion swept through him when the man's face dropped to his neck and sniffed deeply, moving up the side of his face. The huge cock dug into his navel and jumped and, Jackson swore, hardened even more. Jackson flinched when a thick, wet tongue suddenly licked from his jaw up over his cheekbone. The invasive cock responded again.
Jackson's chest heaved as his pulse shot straight into his head and beat at his skull like a jack hammer. His eyelids fluttered erratically but his vision was still fucked up from lack of oxygen and his recent beating. But though he couldn't see the man's face, he could feel it. He jerked his head away when the tongue licked over the corner of his mouth then across his lip. His stomach convulsed and he pressed his lips tightly closed and tried to jerk away. The man's grip on his throat tightened and held his head in place.
Jackson managed to lift his arms and grabbed the man's forearm, struggling against his squeezing hand. The forearm was like a chunk of thick steel beneath Jackson's grip. He couldn't budge it.
"Let me go..." Jackson croaked. "You sick fuck."
?
The wide-eyed look of horror on Sammy's face would have been comical if not for the disturbing scene between Jericho and Jackson. Tony stood back, experiencing his own level of revulsion. But it nowhere near matched that of Sammy as Jericho's penetrating eyes locked onto the younger man as he began to sniff and lick Jackson's face. Every now and then, Jericho would thrust himself against his captive and Tony didn't want to know what was going on down there.
Sammy's face paled as it became obvious that Jericho was imagining it was Sammy, rather than Jackson, in his grasp.
Jericho slid his tongue across Jackson's lips, causing the man to clamp his mouth shut again. Jericho's stare bored into Sammy as he probed Jackson's lips with his tongue. The level of animal hunger in Jericho made Tony exceedingly uneasy –especially the way he was drinking Sammy in while he sampled his gift. To a great degree, Tony knew what made Jericho tick, he knew the man's horror story. But surviving such a story often broke a man's mind, unhinged his soul…as Tony feared was the case with Jericho.
"Can we get the fuck out of here?" Sammy's voice shook. Visible shudders rippled through him.
"Yeah," Tony said thickly, a sliver of nausea welling in him as well. He didn't want to be here when Jericho ceased restraining himself and...
Tony's stomach twisted and pinched as he forced away the remainder of the thought. He really didn't want to go there. This time he was the one who visibly shuddered.
Jericho pulled Jackson away from the side of the car as Tony moved around the hood, keeping his distance from the huge man, not taking the chance of seeing anything that might be permanently branded onto his mind's eye. He nodded quickly at Jericho and opened the passenger door.
"It was good seeing you, Sammy."
Sammy flinched hard as he reached for the driver door, his eyes snapping to Jericho against his will. Tony looked from Sammy's pale, sickly expression to Jericho, who was holding Jackson by the throat with his back pressed against Jericho's stout body. Jackson's nakedness made the sight doubly disturbing.
"I'll be thinking of you, Sammy." A smile twitched the corner of Jericho's mouth. He dipped down and licked Jackson's ear, causing the man to jerk and struggle. Jericho held him firmly in place, his eyes burning into Sammy.
Sammy's pale face turned white as a sheet as he hurriedly climbed into the car. Tony slid into the passenger seat and shut the door. His hands shaking badly, Sammy tried to ram the key into the ignition.
"Fuck!" he hissed. He managed to get the key inserted and cranked the engine, stomping hard on the gas. The car shot forward, spitting mud and gravel behind them. A fit of shakes gripped the young man as he wiped his hand over his mouth. "Motherfucker! Fuckin' freak!"
Tony leaned back against the seat and held his peace. To laugh at this point would very likely get himself a knuckle sandwich. Possibly two or three.
© Copyright 2019 AMS1971. All rights reserved.