Page 1, It\'s back! It\'s the Erotica Awards!
**NOMINATIONS ARE OVER! VOTING WILL START MONDAY!!!!**
It's back y'all! The Second Annual Erotica Awards! It was a MAJOR hit last year, now I have a new co-host. The talented IceBreaker! Now the rules if you didn't do this last year or forgot:
1. You can nominate a person or yourself
2. You can submit as much stories as possible, but ONE PER CATEGORY!
3. You can vote as much as possible, but the limit is once a day!
4. The submissions can be in any category (Poetry, Novel, Short Story, etc...)
5. It can be uncompleted, just have the main thing you are submitting (like you entering in best villian, make him/her prominant!)
I will post on this the website of the voting site once the nominations ends. The picture below will have all the categories that you can submit into!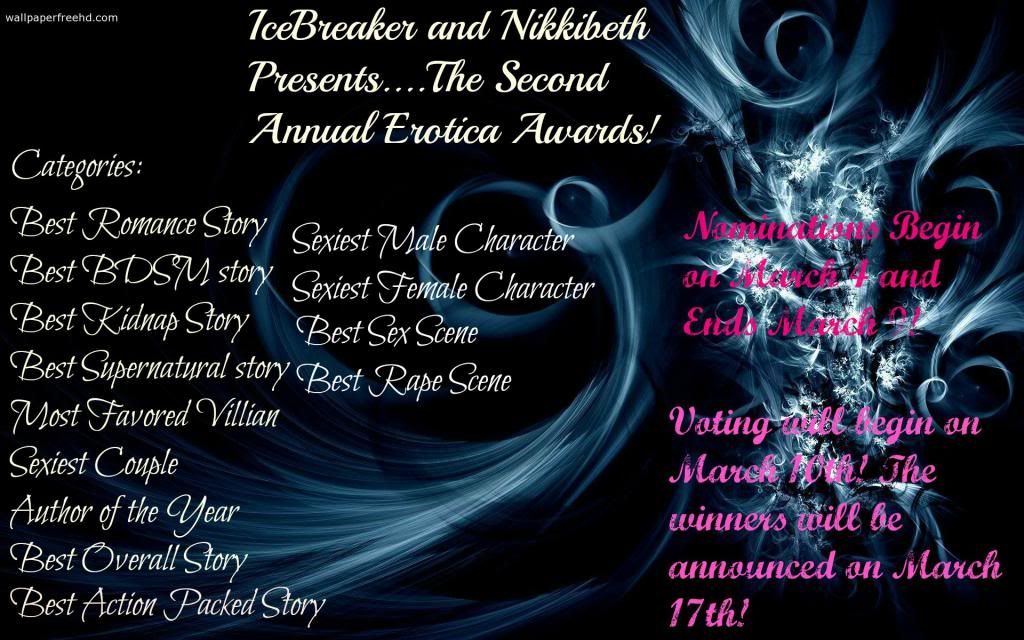 *NEWLY ADDED CATEGORY....BEST SEXY BUILD-UP (as in like building up the love scene)*
Nominations starts tomorrow (March 4th) and ends on the 9th!
The voting will star the 10th and the winners will be announced on the 17th!
The winners of each category will received a hand made picture (like the picture above) with your name and what category (ies) you won in! For Author of the Year, everybody that submitted into this competition is automatically in to try and win that!
To submit something, there are two ways to contact either myself (Nikkibeth) or Brielle (IceBreaker)
1. Contact us via email (Nikkibeth- nikkiconners@rocketmail.com) (IceBreaker- ryderhilson@yahoo.com)
2. On here on our profiles.
Please include the name of the story, if its completed or not, and what categories you want in.
Good luck everybody and have fun!
Icebreaker and Nikkibeth xoxo
© Copyright 2015Nikkibeth All rights reserved. Nikkibeth has granted theNextBigWriter, LLC non-exclusive rights to display this work on Booksie.com.